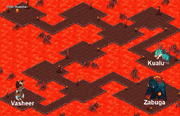 Introduction
Sacrificial Relics is a dungeon available to players level 55 or above.  It may only be entered by players who are in a party.  To enter, you have to talk to the Guardian of the Relics in the Sacrificial Lobby.
Details
There are three bosses: Kualu, Vasheer and Zabuga.  Unlike in Revenant's Vault, they may be defeated in any order.
They have lookalikes,Vasheer looks like vega the mad,Kualu looks like Auron the destroyer.
Rewards
Normal
Level 51-60 Equipment (up to Gold)
Chipped Gems
Pristine Bloodforge Shards
Purified Crystals
Socketing Rod
Magic Dust
Level 60 Pet Armor (Blue)
Inferior Pet Heavenly Crystal (Bound)
Void Shard
Friendliness Gifts
Hard
Level 51-60 Equipment (up to Purple)
Pristine Bloodforge Shards
Purified Crystals
Socketing Rod
Magic Dust
Level 60 Pet Armor (Gold)
Pet Magic Stone (Bound)
Dragon Crystals
Void Shard
Friendliness Gifts
Nightmare
Level 51-60 Equipment (up to Purple)
Flawed Gems
Epic Bloodforge Shards
Purified Crystals
Socketing Rod
Heroic Wings
Mount Upgrade Token
Bloodular Soul Essence
Magic Dust
Level 60 Pet Armor (Purple)
Pet Magic Stone (Bound)
Dragon Crystals
Nimbus Shard
Void Shard
Friendliness Gifts