Introduction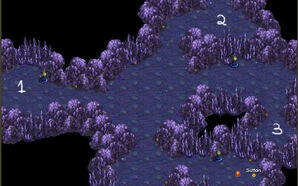 Revenant's Vault is a dungeon available at level 30 and above. It is the second dungeon available to players and, like all dungeons, Revenant's Vault can only be entered by players in a party. Unique and rare equipment/materials can be obtained from the monsters and bosses found in dungeons. To enter Revenant's Vault, simply form or join a party then talk to Sutton in Twilight Caverns.
Players can only attempt Revenant's Vault 5 times daily. Similar to other dungeons, VIPs are alloted an additional 3 attempts per day. Revenant's Vault is available at any time (all day, every day) and its recommended party size is three or more for players at the appropriate level (30+).
Revenant's Vault comes in 3 difficulties: Normal, Hard, and Nightmare.
Dungeon Details
Revenant's Vault has three bosses; Bonecrusher, Neratul the Forgotten and Vega the Mad. They will not appear until the previous boss has been defeated so they need to be defeated in that order. Check our Monster page for a list of monsters found in this dungeon.
Levels and Rewards
Normal
Level 31-40 Equipment (up to Gold)
Pristine Ethereal Shards
Socketing Rod
Level 30 Pet Armor (Blue)
Ice Shard
Friendliness Gifts
Hard
Level 31-40 Equipment (up to Gold)
Pristine Ethereal Shards
Socketing Rod
Level 30 Pet Armor (Gold)
Ice Shard
Friendliness Gifts
Nightmare
Level 31-40 Equipment (up to Purple)
Epic Ethereal Shards
Socketing Rod
Level 30 Pet Armor (Purple)
Ice Shard
Friendliness Gifts