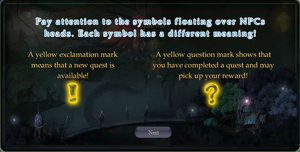 Quests are one of the major backbones behind Crystal Saga. They help you level up, gain accsess to different parts of Crystal Saga, and gain unique rewards. There are main quests which you must complete, and also other quests which do not require completion.
Here you can find the list of Avaliable quests either from the Main story line or Optional quests.. Clicking on a name of a quest will take you to a new page detailing the requirements and how it can be completed. It is helpful to look ahead at main quests that you will be doing in the near future. If your current assignment is to kill 15 fire beetles, a future quest might need a item that the fire beetles drop, thus you can gather as you kill, for your current and future quests.
If you want to check out quests and events that you can redo every day you can check out Daily Event Guides and Daily Guild Quests.
The main quest are sorted as they appear while the optional quests are sorted in alphabetic order.
Quests (Main)
===Missing quests===
===Missing quests===
===Missing quests===
Additional Optional Quests
Community content is available under
CC-BY-SA
unless otherwise noted.