Purgatory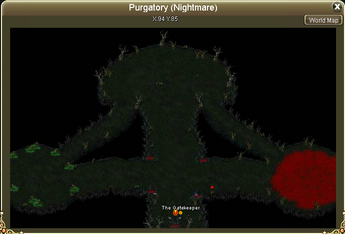 Once killed, all creatures of Vidalia arrive here. In Purgatory, the deathly fog has lingered for years and years, even causing hideous deformed creatures. Defend yourself and kill what stands in front of you!
Recommended Party size: 5+
Note: Visit the Shadow Ghost in level 4 of Twilight Caverns to access the Necropolis.
Note 2: you automatically receive a limitless buff called Explosive Temper, this buff gives hatred towards all enemies within a radius of 1000. All it does is hits monsters for 1 damage within a radius of 1000.
Bosses :
Rewards :
Normal mode :
Equipment: Lvl 101-120 Yellow (or lower)
Materials : Purified Crystals, Chipped to Flawed Gems, Enchantment Crystals and Pet Heavenly Crystals
Difficult mode :
Equipment: Lvl 101-120 Yellow (or lower)
Materials : Purified Crystals, Chipped to Flawed Gems, Enchantment Crystals and Pet Heavenly Crystals, Pristine Purgatory Shards, Ethereal Wings
Nightmare mode :
Equipment: Lvl 101-120 Purple (or lower)
Materials : Purified Crystals, Chipped to Scratched Gems, Enchantment Crystals and Pet Heavenly Crystals, Epic Purgatory Shards, Ethereal Wings