Crystal Essence

You gain 2 Crystal Essence for every 15 seconds of in-game time. Once you reach 10,000 Crystal Essence in your Essence vials, you stop receiving essence. Essence can be stored in Crystal Essence Vials which can be traded or used later.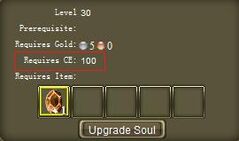 It is also used for upgrading your soul along with purified crystals and gold. Occassionally, events are set up where you may cash in your Crystal Essence for in-game items.
CE can also be used for Pixie upgrading and Sperion upgrading.